Technical Difficulties!

This page is currently under construction.
Please, don't interfere with the construction of this article.
"
Now, this evening, it's not all about the poker. It's not all about me. It's about you. So drink up and be merry! Life is for the living! And who knows? I could be dead tomorrow.
"

—Markiplier, Chapter 1
Who Killed Markiplier? (also known as WKM) is a multi-video story series made by Markiplier, with Tyler Scheid, Pamela Horton, Robert Rexx, Mick Lauer, and Chris Hampton acting alongside Mark. The series is dedicated to Friday, October 13th of 2017. The website https://whokilledmarkiplier.tumblr.com/ was created. The project was mentioned beforehand in A GOOD 'OL FLOOR VLOG and WHERE THE F$@K?.
Summary
| | | |
| --- | --- | --- |
| " | You have been invited to poker night at Markiplier Manor! But something seems amiss. Markiplier has been murdered, and the murderer cannot be found. | " |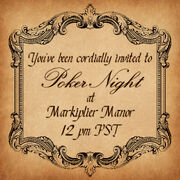 In Chapter 1, you arrive at Markiplier Manor. In front of you, the Colonel is standing at the front door. After entering, you encounter the Butler, who welcomes you. You also meet Mayor Damien and the Chef before finally coming to face the man of the hour - Mark himself. After getting obscenely drunk and passing out, you wake up the following morning to the Butler, who brings you a hangover cure. Damien greets you, and then you head downstairs for breakfast- but Mark's corpse falls in front of your face, accompanied with a flash of lightning. After hearing the lightning, the Detective, the Butler and the Chef trail in one by one. The Detective sends you off to investigate the alibis of all the guests to try and weed out the killer.
Charactes
The Host of the House, Mark (Markiplier)
The Colonel (William)
The Mayor (Damien)
The Seer (Celine)
The Detective (Abe)
The Butler
The Chief
The Groundskeeper (George)
Episodes
Trivia
The two times the Groundskeeper said murder were not accompanied by lightning, whereas every other instance the word was used is accented with lightning.
The budget for this project was about $150,000[1]
References
Ad blocker interference detected!
Wikia is a free-to-use site that makes money from advertising. We have a modified experience for viewers using ad blockers

Wikia is not accessible if you've made further modifications. Remove the custom ad blocker rule(s) and the page will load as expected.